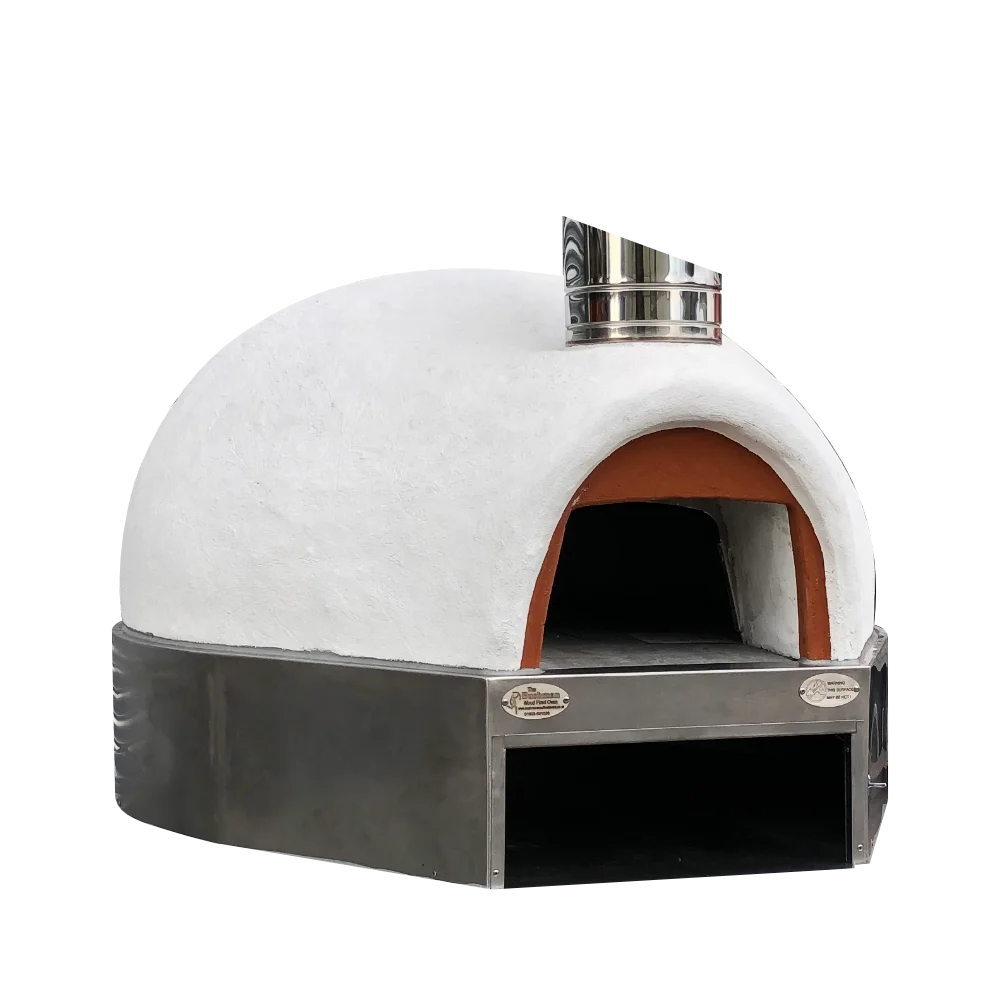 This is by far our most popular oven probably because it's also the most convenient in terms of installation and finishing. This oven is fully insulated and no more work needs to be done to the oven dome itself.
Some customers do like to paint it white and brown are popular choices with this oven the chimney vents right at the front of the oven and is exposed as soon as it leaves.
This oven can be installed through a standard doorway simply by turning it on its side.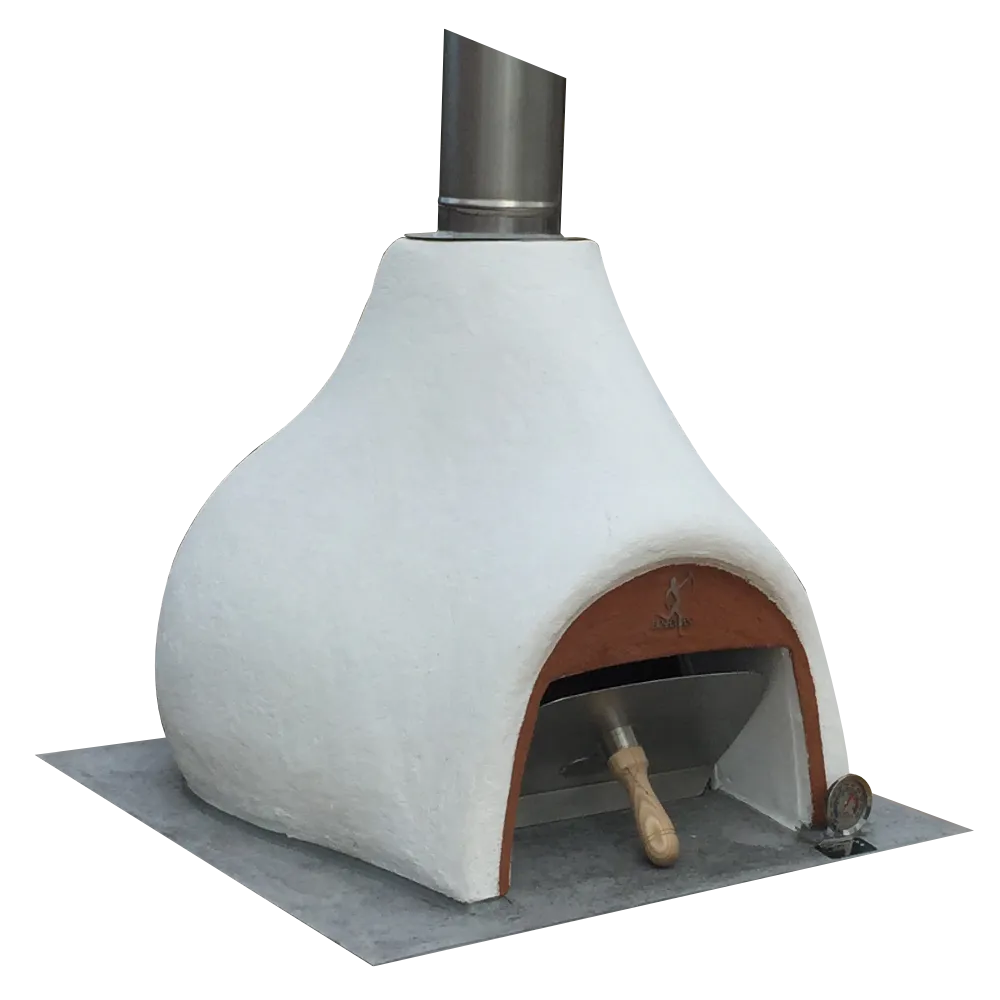 The onion-shaped oven takes literally twice as long to make as a standard insulated oven (which obviously affects the price) but it really does look the business and makes a dramatic statement.
The onion-shaped oven is the top of our range of ovens in this oven the chimney still vents at the front of the oven but we bend the flue ducting back under the refractory and then vent it upwards further back giving it its characteristic onion shape.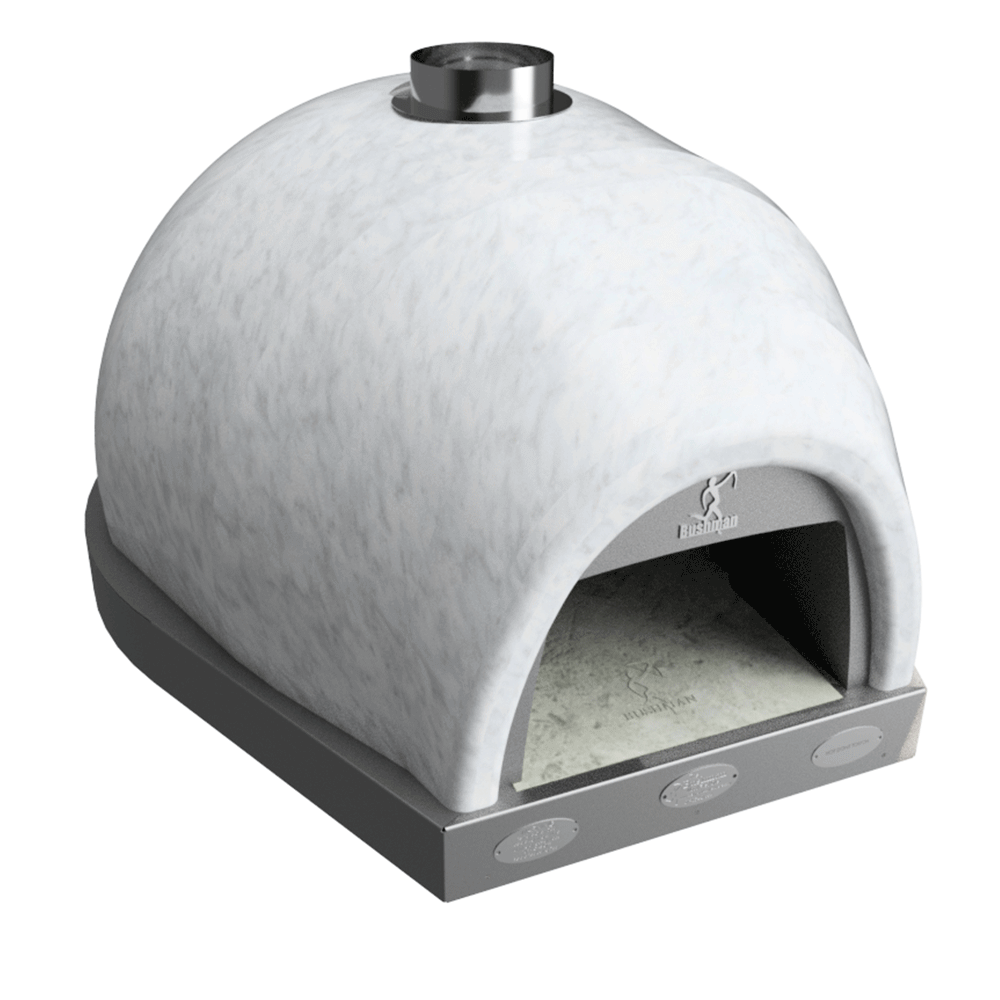 Primarily the low-profile oven was developed for mobile caterers who liked the idea of an onion shape but did not have the space between the top of the oven and the vehicle roof it does have a certain charm so it would be wrong to say that it could not be used in a restaurant as well.
Our final option suits the more intimate venue. It was developed for mobile caterers who liked the idea of an onion shape but did not have the space between the top of the oven and the vehicle roof for the full onion.
When launching this site I thought long and hard about whether to include un-insulated domes and decided not to. The reason is because I you to have the very best experience with your oven possible. The way I made ovens twenty years ago is not the way I make them now.
The clients that were happy with two-hour heat retention were blown away then but Bushman ovens when fully insulated have amazing heat retention plus they are completely weatherproof.
This means you can get 18 hours and more of retained heat on just one firing. You can't get that on uninsulated domes, plus the oven burns cleaner and uses less fuel, so on this site, you will only find insulated ovens which will last you a lifetime.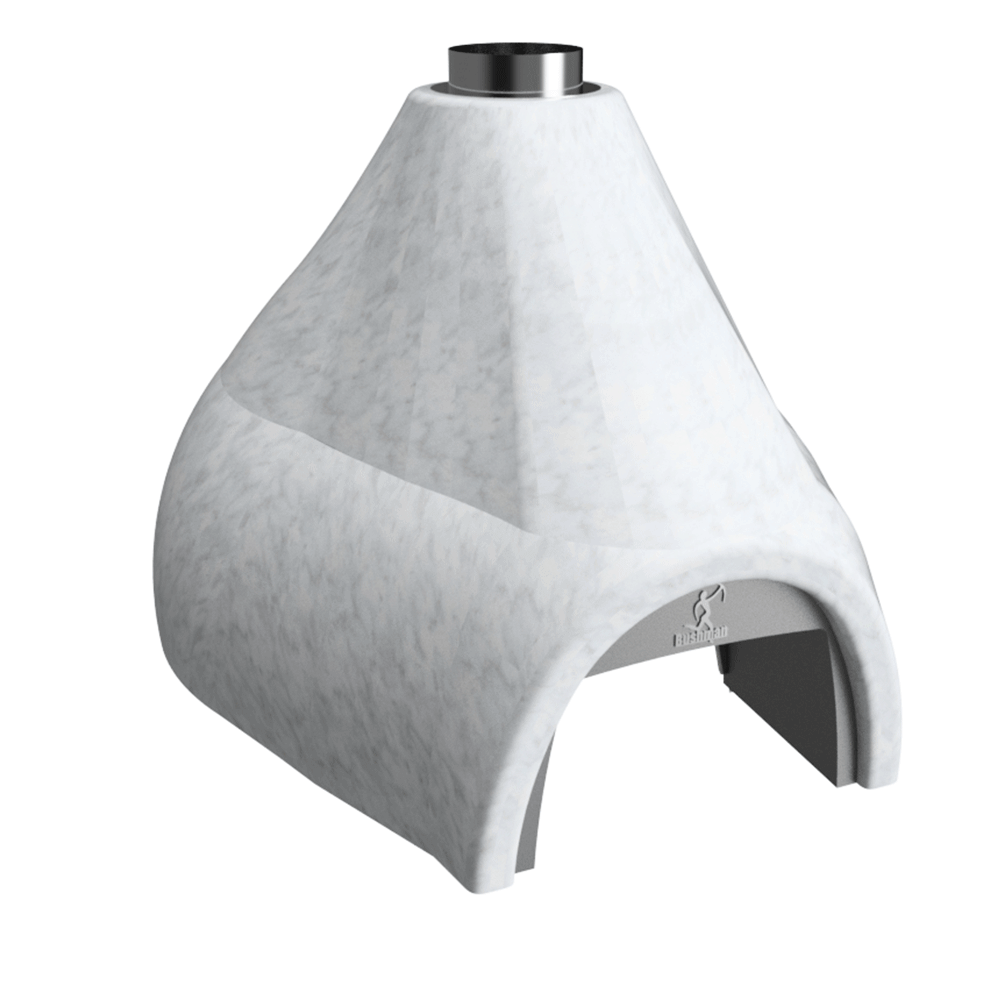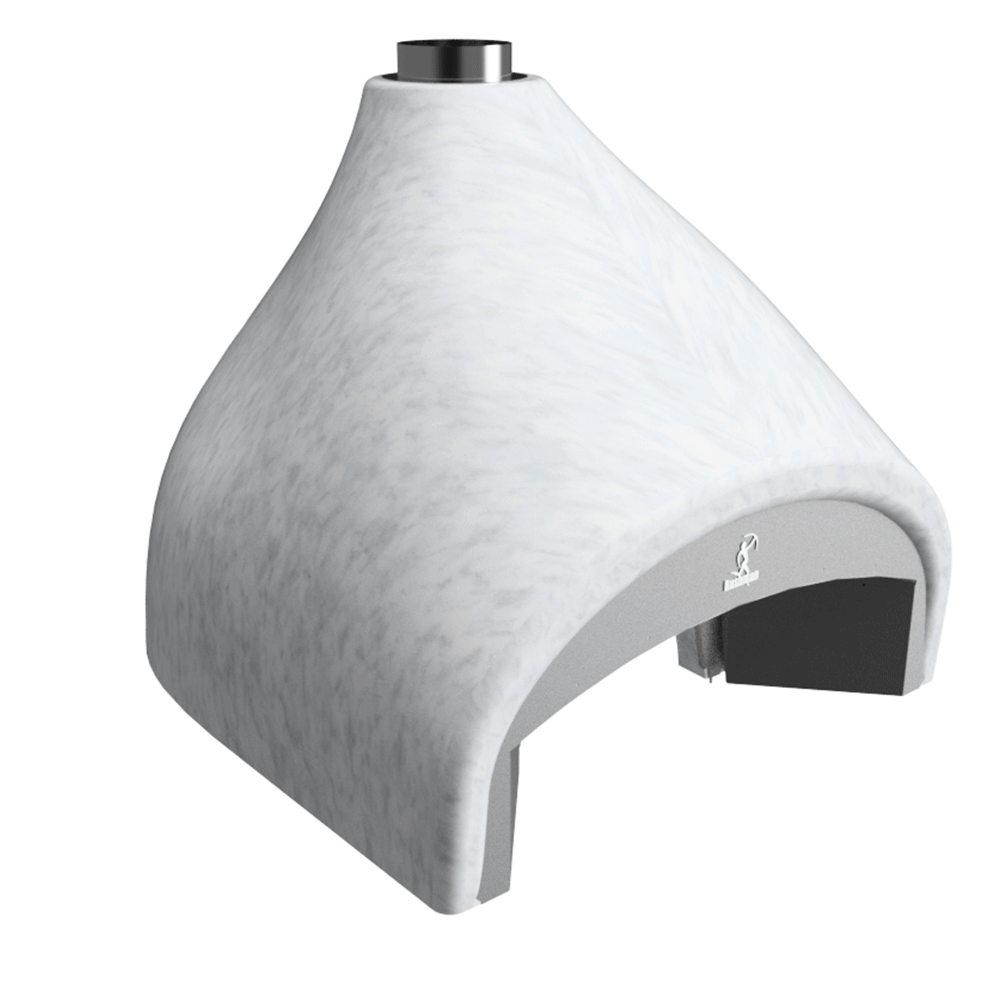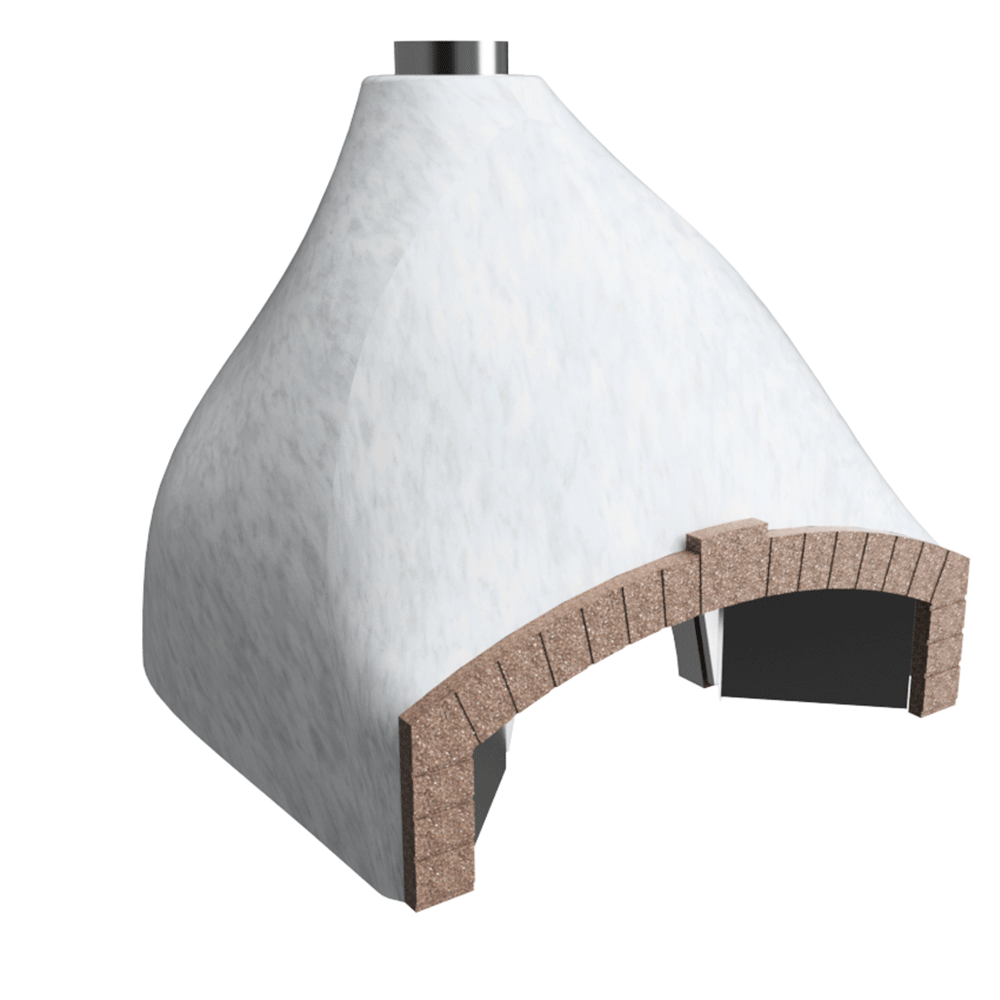 The only fully BSI-certified wood/gas combi oven
approved for domestic, mobile, and commercial use in the UK
Get your free guide to the top 10 mistakes people make when buying a wood fired commercial oven for their restaurant.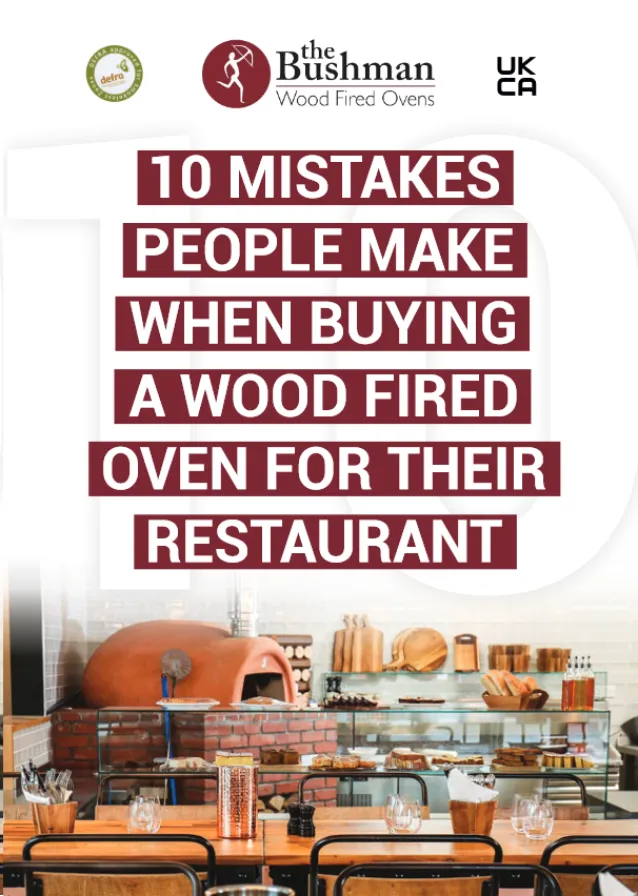 All our wood-fired ovens can make a fantastic visual statement and will set your restaurant apart from the competition. We offer three distinct styles (standard, onion and low profile) in small, medium, large (and extra-large from April 2016) with the option of an un-insulated standard dome. You can also opt for a wide opening mouth or standard mouth. Each oven is handmade for you and with the variety of mounting options we have available your oven will be truly unique to you.
When we meet we will go through all the different options for how your oven will be mounted to its stand but basically it depends on how you want to use the oven and what you want it to look like once installed.
These are ovens for self install they are ovens that the builder is going to build in to your own style of brick or block work and we have this available in 2 models.
It's also true to say that I'm selective about whom I take on and not everyone who comes to see me ends up becoming a customer. If I can't see it working for you then you don't get the Bushman seal of approval and I'm not going to sell you one of my ovens.
But if you do get to buy one of my ovens you'll join an elite group. We have over 90 % success rate for new business start-ups which kind of blows normal start up statistics out of the water.
It's not very often at all that you will see one of my ovens up for resale as the customers who follow the pizza making and selling system that I teach have proven it to be so successful.
Don't get me wrong there is nothing stopping you from using a competitor's oven or trying to work it all out yourself. But you'll find it a harder road to take, fraught with many obstacles. Setting up a new business is hard enough. Choosing a Bushman wood fired oven just makes it easier.
Our Discovery Consultation
I don't sell my ovens without meeting you first. We do this at one of our free two hour discovery sessions here in Kidderminster.
If you tell me that's too far to travel to, then we'll say goodbye now. I've had people drive over from Munich and back for that two hour meeting. I regularly have people fly over from Ireland to come and see me and I've had a couple come from Australia.
It doesn't matter how busy you are or how far away you live, the two hour discovery session is a must. You will learn more about selling pizza than you could experience in six months on your own. And by the end of the session you will know without doubt if this is the right path for you. Only then can we quote based on your exact requirements.
But I expect you'd like to know the sort of figures we are talking about before you sign up? Well to be honest it's going to cost more than you expect but less than you should pay.
Think of it in terms of business start-up costs. If you don't have the money to start the business properly then you are setting yourself up to fail. And I promise you faithfully that getting a cheap oven is only going to make it worse for you.
So let's talk numbers. There are basically five mobile business opportunities out there. Each one has an entry level price but those costs can rise depending on the extras you want to put in.
By the way, each of those five models has basically the same earning potential. I'll point out the reasons for this when we meet.
So if you are ready to start your mobile wood fired catering adventure and you want to get it right then book onto your discovery consultation now.
Its absolutely free and wont cost you a penny as long as you turn up when you say you will so book it now don't wait spaces fill up fast and its a one to one meeting! Hi JayStarting a new business is terrifying at the best of times, particularly in today's climate (both economic and atmospheric) with lots of scary decisions to make, and more demands for money than opportunities to make it, like one-way financial osmosis. When we decided to bring a wood-fired oven into our garden nursery/café business it…
Testimonial on Bushman wood fired ovens from a delighted customer
Bushman wood fired oven on a Piaggio Ape
Mobile wood fired oven on Piaggio Porter
The Bushman Lafavorita Massimo 1.5m rotational pizza oven