DUAL FUEL OR WOOD FIRED MOBILE OVENS
All of our mobile ovens can be wood-fired or dual-fuel. See below some of the mobile ovens we have built and supplied
- OR -

The only fully BSI-certified wood/gas combi oven
approved for domestic, mobile, and commercial use in the UK



If you're serious about starting a wood fired mobile oven business then you've come to the right place. Since 2010 I have helped more people start mobile pizza businesses than anyone else. Sometimes I wish it was as simple as just chucking a mobile oven on a trailer or in a van and taking it round the country. Back in 1999, that's how I started.
But I've paid my dues, perfected my ovens, worked out all the short cuts and now I want to help you. Like in any business, having insider information is the short cut to being successful and that's where I come in. But I also have to be honest with you. Not everyone can afford my help or my mobile ovens.
I'm not trying to be big-headed or to put you off but let's get real here. I help and advise businesses from new start-ups right up to multi-million-pound brands.
And I have helped them all to start from scratch. I have customers who have turned over tens of thousands of pounds in their first year to companies that are turning over £250k in year three.
It's also true to say that I'm selective about whom I take on and not everyone who comes to see me ends up becoming a customer. If I can't see it working for you then you don't get the Bushman seal of approval and I'm not going to sell you one of my mobile ovens.
But if you do get to buy one of my ovens you'll join an elite group. We have over 90 % success rate for new business start-ups which kind of blows normal start-up statistics out of the water.
It's not very often at all that you will see one of my ovens up for resale as the customers who follow the pizza-making and selling system that I teach have proven it to be so successful.
Don't get me wrong there is nothing stopping you from using a competitor's oven or trying to work it all out yourself. But you'll find it a harder road to take, fraught with many obstacles. Setting up a new business is hard enough. Choosing a Bushman wood-fired mobile oven just makes it easier.
My experience with Jay and Dingley Dell was really amazing. From my first meeting with him, I realise that I have next to me not a salesman who wants to sell his product but a person who gave me all the information and advice to run a business and the steps to grow and to…
Our Discovery Consultation
I don't sell my ovens without meeting you first. We do this at one of our free two-hour discovery sessions here in Kidderminster. If you tell me that's too far to travel to, then we'll say goodbye now. I've had people drive over from Munich and back for that two-hour meeting. I regularly have people fly over from Ireland to come and see me and I've had a couple come from Australia.
It doesn't matter how busy you are or how far away you live, the two-hour discovery session is a must. You will learn more about selling pizza than you could experience in six months on your own.
And by the end of the session, you will know without doubt if this is the right path for you. Only then can we quote based on your exact requirements?
But I expect you'd like to know the sort of figures we are talking about before you sign up. Well to be honest it's going to cost more than you expect but less than you should pay.
Think of it in terms of business start-up costs. If you don't have the money to start the business properly then you are setting yourself up to fail.
I promise you faithfully that getting a cheap oven is only going to make it worse for you. So let's talk numbers. There are basically five mobile business opportunities out there.
Each one has an entry-level price but those costs can rise depending on the extras you want to put in.
By the way, each of those five models has basically the same earning potential. I'll point out the reasons for this when we meet.
So if you are ready to start your mobile wood-fired catering adventure and you want to get it right then book your discovery consultation now.
It's absolutely free and won't cost you a penny as long as you turn up when you say you will so book it now don't wait spaces fill up fast and it's a one-to-one meeting!
Get your free guide to the 7 steps required to set up a successful mobile pizza business.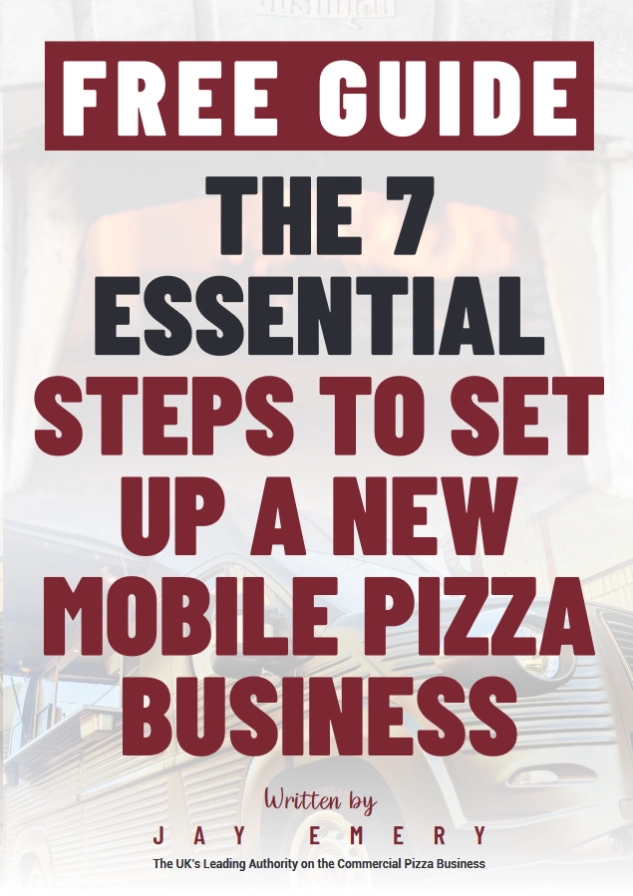 Often when customers first set out to buy a wood-fired mobile oven for their restaurant they think they should be able to buy an off-the-shelf oven and as a result I can just give them a price. But as most of my customers now know there is so much more to it than that. Beyond the style of mobile oven, the approach to insulation, the size and the type of mounting and stand, there are also the tool kits, the thermometer options, the gas combi options and the water scrubbers to consider. There are so many variables and after all if it's a pizzeria that you are opening then surely the most important piece of equipment is without a doubt the oven.
(It's also worth getting our opinion on your planned kitchen layout. In all my years of doing this I have seen more kitchen layout nightmares than you could possibly imagine. Make sure that you don't fall into the same trap. These so called kitchen designers are not specialists when it comes to wood fired oven kitchen designs. I am a specialist and I want to make sure you get it right.)
If you'd like my help choosing the right oven for you, come and visit us and get all the help you need.
Testimonial on Bushman wood fired ovens from a delighted customer
Bushman wood fired oven on a Piaggio Ape
Mobile wood fired oven on Piaggio Porter
The Bushman Lafavorita Massimo 1.5m rotational pizza oven