Compact Kitchen w/80cm Low Profile Gas Wood Fired Oven
Our Compact Trailer Commercial Wood Fired Ovens have been designed to come to temperature very quickly, giving an even cooking temperature and have a good residual heat.
Sometimes I wish it was as simple as just chucking an oven on a compact trailer or in an ape van and taking it round the country. Back in 1999 that's how I started. But I've paid my dues, perfected my ovens, worked out all the short cuts and now I want to help you.
I believe that we have built the perfect compact kitchen on the back of an ape good enough for street trading fantastic for small festivals and ideal for private parties it does still have its limitations not many as this is a complete solution and it certainly packs a punch.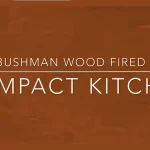 *Bushman Wood Fired Ovens are individually handmade to order, and as a result there will always be variations in texture, colour and finish.