bushman medium garden ovens
See below some of the medium garden ovens we have built and supplied
- OR -

The ultimate pizza oven/wood burning oven for the English climate. Easy to use fast to set up and cooks fantastic food.
Our Wood Burning Pizza Oven is quite unique. Although it is based upon ancient Roman designs – we use 21st century materials our specially formulated reinforced Fire cement a high density refractory grade with 3 layers of reinforcing to ensure that it is capable of withstanding constant use.
From cold they come up to temp in under 90 minutes, making it ideal for our temperamental weather and being big enough to cater for from 2 to 80 people.
If the medium garden oven was used the day before, they come up to temperature in 20-30 minutes when using good quality wood and following our lighting instructions.
The pizza wood fired oven is rustic in finish and comes waterproofed in a light brown colour. The oven is very safe to use. The insulating aggregates that we use mean that the oven rarely overheats on the outside and plants can be planted right up to the edge of the oven. The oven, as standard, comes with a refractory tiled floor which is ideal for cooking most things including pizza bread, kleftiko, slow roast casseroles, and hot smoking.
The wood fired medium garden Oven includes the floor of the oven the special oven dome, a wedge door and a lid for the chimney to keep the animals out.

The only fully BSI-certified wood/gas combi oven
approved for domestic, mobile, and commercial use in the UK
Get your free guide to the top 10 mistakes people make when buying a wood fired oven for their home or garden.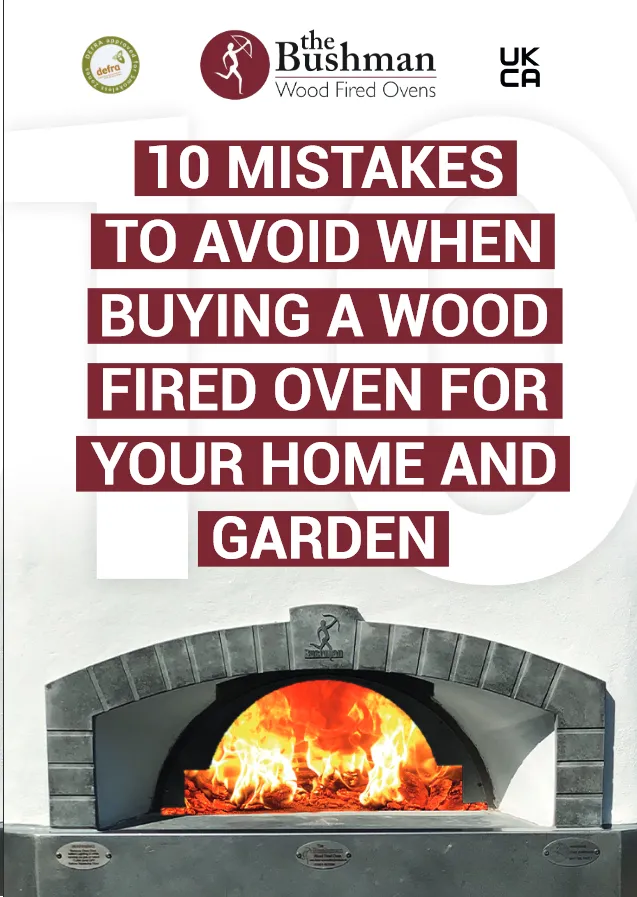 This is the section that has the thermal mass and its design is responsible for the stability of the oven. If its over built it will take to long to get to temperature and will smoke like crazy until it gets up to temperature by the same token if it does not have enough thermal mass then it will not be stable enough and you will be challenged in trying to maintain constant temperature if it is just a thin shell oven or steel shell oven then you will also find that it will not hold temperature for any length of time.
The un-insulated oven is the most basic form of medium garden oven that we make as discussed on the domestic oven page the un insulated oven is the perfect oven for those people who are looking for a basic oven either for DIY self install or for anyone wanting to build a bespoke designed oven while still complying with the DEFRA smoke exempt criteria.
MOUNTINGS
Inset Mounting
An inset mounting is the most basic form of installation, but you will need to have a non flammable base prepared to put the oven on. You will then put down the required insulation boards and the base of the oven.
To get a seamless interface you would also tile around the oven to make it look fantastic this will either be done as a DIY project or as a builder or landscaper project.
Teardrop
If you already have a solid counter which is non flammable then you can go for the modern stainless steel done for you look in this solution the oven base will come on a galvanized steel frame with the insulation and the floor of the oven already built in.
Simply seal the cooking tile into the base and then pop the oven onto the mounting and you are ready to go.
Rustic Wood
For those of you who like the rustic look or for those of you who want an alternative to the stainless steel frame then this may be the solution in this mounting the insulation board and the rectangular oven floor is already built into the surround. You can put this directly onto a solid non flammable surface or onto a brick built log store or of course you can have it with the completed rustic stand.
STANDS
Deciding early who is going to be responsible for the stand is going to save you a truck of trouble. Its either going to be a brick built out door kitchen built by a brick layer or by yourself as a DIY project or you are going to buy an oven already on a stand here are the options:
Bespoke Built Brick
A bespoke built structure is something that you will get your builder or your landscaper to do for you you may well take it on as a DIY project but be sure you have designed the area properly, I can't tell you how many times I've been to site to install a medium garden oven on a layout designed by a so-called professional kitchen designer and they have the basics all screwed up.
So check out the page on basic layouts if you are buying an oven from me i will be happy to review your plans and make recommendations.
I've had more customers than I care to remember who have scrapped the architects drawings in favour of a suggested layout by me so if you are spending big money make sure you are getting advice from the right people my customers include 2 michalin star chefs pub chains restaurant chains and hundreds of customers who run businesses from mobile catering units believe me if i can get a compact kitchen capable of cooking 70 pizza per hour onto the back of a Piagio ape then i can help design something for your garden to you will just need to get someone in to interpret what i suggest without cocking it up with their own off the wall unproven ideas the ball is firmly in your hands on this one.
Pre-Built Non-Flammable Counter
If you have already built a counter and have come to our site for what ever reason then you could put in an inset base and tile around it or you could just tile the whole thing and put on one of our teardrop mountings or rustic mountings.
The first will require the services of a tiler or builder while the last two you could do on your own with a couple of friends bribed with beer and the promice of a dam fine pizza party.
Wooden Rustic Stand
The rustic wood en stand comes in three versions:
1. Self assembly for those where access is tight
2. Pre assembled with base mounted for those with good access
3. Fully mounted and ready to go for those with easy and convenient access
By far the most popular is option 2 this method allows you to quite easily lift each part into the garden with a couple of burley mates bribed with the promise of beer and a fab pizza party.
Delivery to most England destinations 9am-5pm on a Friday is now included in the list price, a surcharge will apply to deliveries to Scotland, and offshore destinations.
The Dimensions of this Medium Wood Burning oven are approximately:
| Length | Width | Dome Height |
| --- | --- | --- |
| 4′ | 3′ | 7″ |
| 122cm | 92cm | 18cm |
Door entry and landing pad Dimensions for all of our Domestic ovens are the same:
| Door Height | Width | Flue Outlet |
| --- | --- | --- |
| 9.5″ | 16″ | 6″ |
| 24cm | 40cm | 15cm |
The uninsulated oven has a foot print of approximately 4 x 3 ft. or 122cm long and 92cm wide and is approximately 2ft high and weighs about 230kg in total floor and dome. It can easily be assembled by to 3 fit people .
The internal cooking space is a circle 81cm diameter within that circle there are 4 refractory high density cooking tiles 1″ or 25mm thick which are replaceable. The refractory Tile floor allows you to cook anything from pizza to Christmas lunch, and is capable of 70 thin base 10 inch pizza per hour.
I personally have cooked 450 pizzas in a day from this oven and have customers quoting 600 per day.
The Pizza Oven can be installed in almost any location, inside or out and we will be happy to provide guidance on setting the oven up . Cooking for the is easy in the medium garden oven and a trained chefs can cater for as many as 120 people out of this versatile oven.
The economical use of logs is important to maintain the best cooking temperatures. Oak and Beech are among the best for achieving this, whereas fruit woods are best for adding flavors. We also recommend osolomeo for ease and consistency.
The fire is normally built and maintained inside the oven on the right hand side using 3 – 4 split logs at a time. The remainder of the floor is then used as the direct cooking surface adjacent to the fire. Bread baking, slow roasting and stews can be cooked with the fire ash left in or raked out, and the wedge door in position.
Please note:
The oven floor weighs approximately 110 kg.
The oven dome weighs approximately 170 kg.
A fully insulated oven usually weighs about 650 kg.
Height varies depending on customer requirements etc.
INSULATED BUSHMAN WOOD FIRED MEDIUM GARDEN OVEN
All Bushman wood fired ovens are individually handmade and as a result the external dimensions are approximate.
The onion shaped oven is the top of our range of ovens in this oven the chimney still vents at the front of the oven but we bend the flue ducting back under the refractory and then vent it upwards further back giving it its characteristic onion shape.
The vertical exit is exactly as it seems the chimney exits the oven vertically straight up.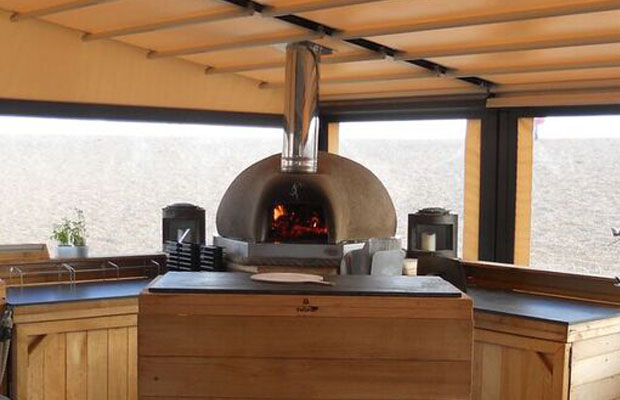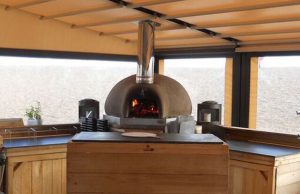 The onion 45 degree medium garden oven does exactly as it says on the tin the chimney exits the oven at 45 degree this is great for people who are installing the oven into some kind of building structure it allows you to extend the angle of the flue pipe to a point at the wall before then running up the wall and out through the roof.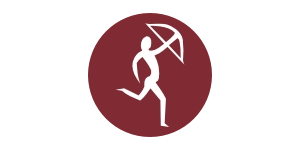 Worth every penny, from initial advice, quoting, ordering, and delivery the team from Bushman where on hand every step of the way. Highly recommended, the oven came in a kit form very well packed and the build was so easy with the excellent video supplied on a rechargeable tablet. Every little detail was well thought…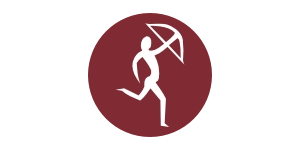 I bought an oven from Jay in 2008 and 12 years later he helped me fix it not asking for a penny and giving me very good tips on how to fix it effectively. I could not have got the same advice from anyone else. His customer care is fantastic and beyond what I would…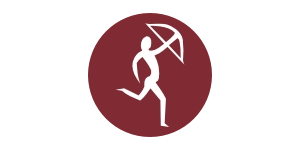 Excellent discovery consultation with Jay. His knowledge and expertise is outstanding. We travelled far to meet with him and it was definitely worthwhile, he gave us so much more than we anticipated. Really looking forward to continuing. Thanks, Jay!
Testimonial on Bushman wood fired ovens from a delighted customer
Bushman wood fired oven on a Piaggio Ape
Mobile wood fired oven on Piaggio Porter
The Bushman Lafavorita Massimo 1.5m rotational pizza oven